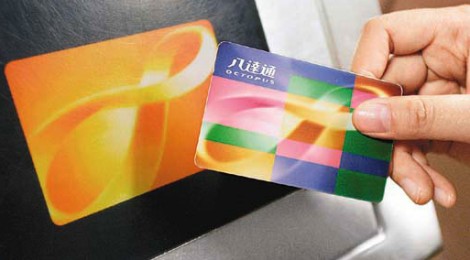 Octopus card is a smart money card that's very convenient to use not only in public transport (like MTR, bus, mini bus, ferry and light rail), but also in convenient stores (like Circle K and 7-Eleven), supermarkets (like Parknshop and Wellcome), restaurants (like McDonald's and Café de Coral), personal stores (like Watson's and Mannings), vending machine (for snacks & drinks), parking lots for payment. Thus it's a smart way to travel Hong Kong with an Octopus Card and top up it whenever you need.
Type of Octopus Card
There're two types of Octopus Card: On-Loan Octopus and Sold Octopus.
On-Loan Octopus requires HK$50 refundable deposit that covers the possible negative value or card lost. The deposit of On-Loan Octopus Card can be refunded when you return the card to MTR Customer Service Counter. Please note starting from Jan 2012, if you return the card within three months of its issue date, you're required to pay HK$9 as refund handling fee.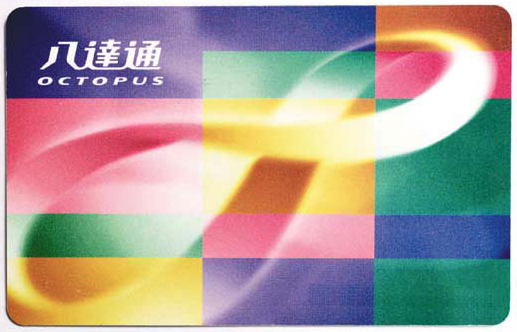 A Sold Octopus Card is a specially designed Octopus that is for sale with no deposit required. The remaining value on the Sold Octopus Card is refundable.

Where to Buy?
Sold Octopus is sold in MTR Customer Service Center, while On-Loan Octopus card can be purchased at:
MTR Customer Service Counters (except the Racecourse station)
Light Rail Customer Centers (Ferry Pier Terminus, Leung King, Town Centre, Yuen Long Terminus, Tin Yat, Siu Hong & Tin Shui Wai stations)
First Ferry Customer Service Centers ( Cheung Chau Pier, Mui Wo Pier, Central Pier 5 and Central Pier 6)
New World First Bus Customer Service Centres (Admiralty East Bus Terminus)
How Much?
Here's the information for a standard On-Loan Octopus Card, with maximun reload amount up to HK$1,000.
| | | | |
| --- | --- | --- | --- |
| | Child | Adult | Elder |
| Deposit | HK$50 | HK$50 | HK$50 |
| Initial stored value | HK$20 | HK$100 | HK$20 |
| Handling charge | — | — | — |
| Fare concession eligibility | Age   3-11 | No   concession | Vary with different transport companies |
Where to Top Up?
Octopus Card can be topped up in the Octopus Add Value Machine in MTR station. Insert the card into the Add Value Slot and insert HK$50 or HK$100 dollar note in the Bank Note Slot, press the "Stop" button and retrieve your card; or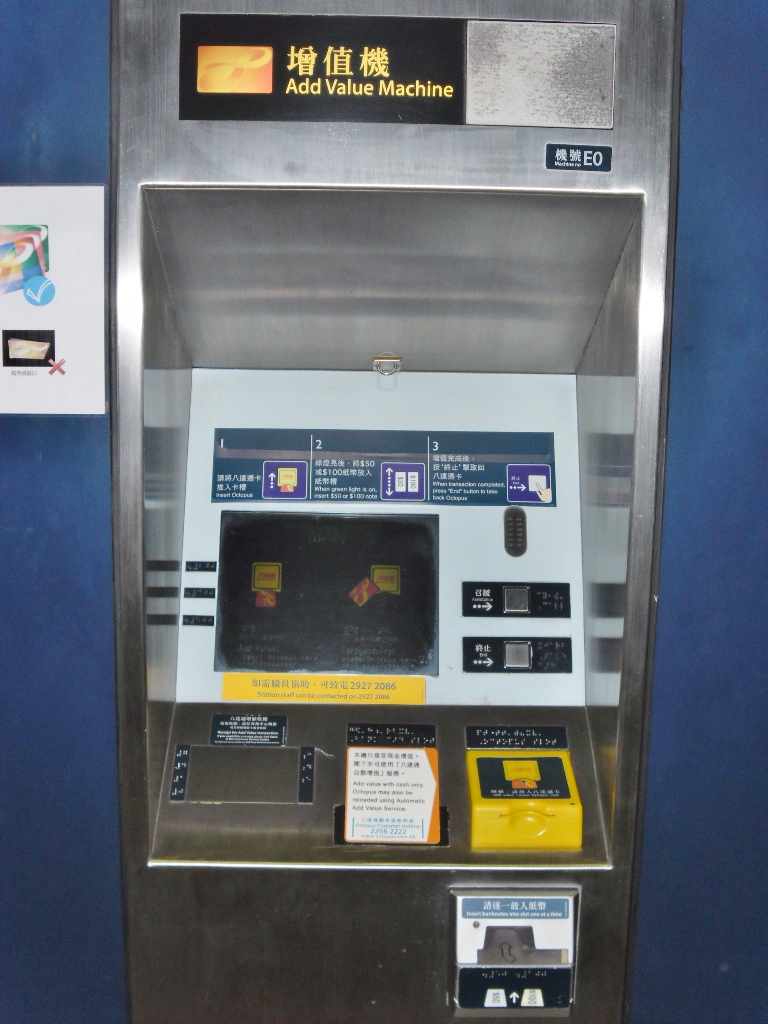 Top up at the MTR Customer Service Centre in multiples of HK$50; or
Top up at any Octopus Authorised Add Value Service Providers, such as convenience stores, supermarkets and fast-food chains
Top up in Airport Express Line Customer Service Centres, KMB Customer Service Centres, First Ferry Customer and Octopus Service Centres (Cheung Chau Pier, Mui Wo Pier, Central Pier 5 & Central Pier 6), Citybus Customer Service Centre at Airport Ground Transportation Centre,  NWFB Customer Service Centre at Admiralty (East) Bus Terminus, Light Rail Customer Service Centres
Join the Automatic Add-Value Service with your bank in Hong Kong to automatically add HK$250 or HK$500 every time when your card reaches zero or negative balance
How to Use?
Simply swipe the Octopus Card over the yellow Fare Deducting Processor.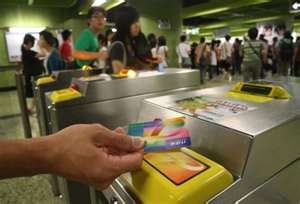 How to check balance?
Balance will be shown on the Fare Deducting Processor every time when you use the Octopus Card
There are Octopus Enquiry Processors in the MTR station. It shows the last 10 transaction details and the remaining balance.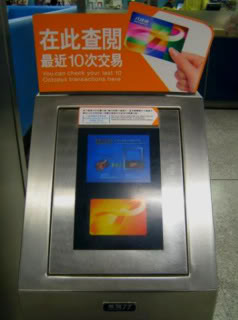 Check at the MTR Customer Service Centre